Heatherton 173rd Beavers

Who are Beaver Scouts?
Beaver Scouts are young people aged between six and eight years old. They belong to the first and youngest Section in the Scouting family. They meet together weekly and are encouraged to work in a variety of small groups called lodges. Our Colony, which was started in September 1999, can take a maximum of 20 children. Within the Colony, a team of adults (Leaders) plan and run the programme.
What do Beaver Scouts wear?
Beaver Scouts wear turquoise sweatshirt, navy combat trousers (or a skirt or shorts also navy), a group scarf (Necker) and coloured woggle (representing the lodge they are in).
What have Heatherton Beaver Scouts been doing?
We have welcomed visitors to our meetings. Helen Bartle from Derbyshire County Council came to talk to us about recycling & what we can do to help the environment. Dr Vanessa Dickenson came to tell us about her job & we were able to listen to each others hearts and look inside Puma.s ears!! A selection of X-rays was viewed by the Beavers; allowing them to see what inside their body looks like.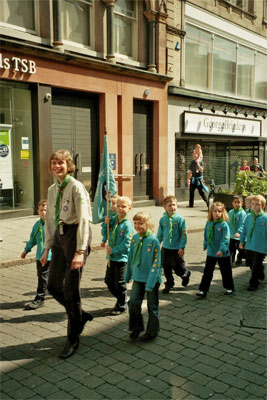 We had a great visit to the Children.s Hospital where we looked around lots of departments from physiotherapy to X-ray. We went onto the wards & talked to some of the children who were in hospital to find out what it was like...they even have a school on the ward! When we went up to the operating theatres we were able to put on theatre hats & masks and talk to the nursing staff.
May saw us at Group Camp at Beaudesert, where we stayed for a sleepover & lots of fun activities with the Cubs & Scouts.
In the summer we looked at the country code, maps & items to take out on a walk before we did a walk at Drumhill campsite led by Nigel Walden. The weather was fine & the Beavers really enjoyed the chance to explore the great outdoors.
Various crafts have been created; from snowmen to vases of flowers; flags to cakes; fir cone beavers to Christingles. All have been fun to make & have challenged the Beavers manual dexterity & creativity.
By doing the Marathon Challenge we raised £110.00 for Children with Leukaemia.
We attended St. George.s Day Parade in April in the city centre & Remembrance Day at the Haven church, where the Beavers did a presentation on the RAF.
We attended an Olympic themed Fun Day organised by Derby North District in July & the Derby North District Beaver Christmas party. Both events were thoroughly enjoyed by all who went.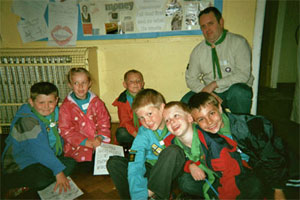 Visiting the Fire Station was another highlight of the year. The Beavers were shown the vast range of equipment that the fire fighters use & were allowed to sit in the fire engines. The fire fighters were really good, answering lots of questions. This visit rounded off our safety badge work.
During the last year Bronze Chief Scout awards have been presented to Harry Jupp, Megan Dickenson, Thomas Hind, Arun Shaw, Cameron Redfern, Daniel Meekin, Ailish Gallimore, Alistair Oldroyd, Abby Caister, Ryan Pratt, Kyle Smith & Bradley Watt.
How can you help?
There are lots of ways in which you can help:-
Offering to help with a new skill.
Helping to prepare refreshments for a colony or group event.
Helping transport Beavers to events and activities.
Supporting the Scout Group social events, Annual General Meetings and open evenings.
Joining the group executive committee for fund raising and managing the Scout Group.
The Colony meet on a Wednesday Evening at the Haven Christian Centre, Heatherton.
For information on how to join or help e-mail Beavers@heathertonscouts.com